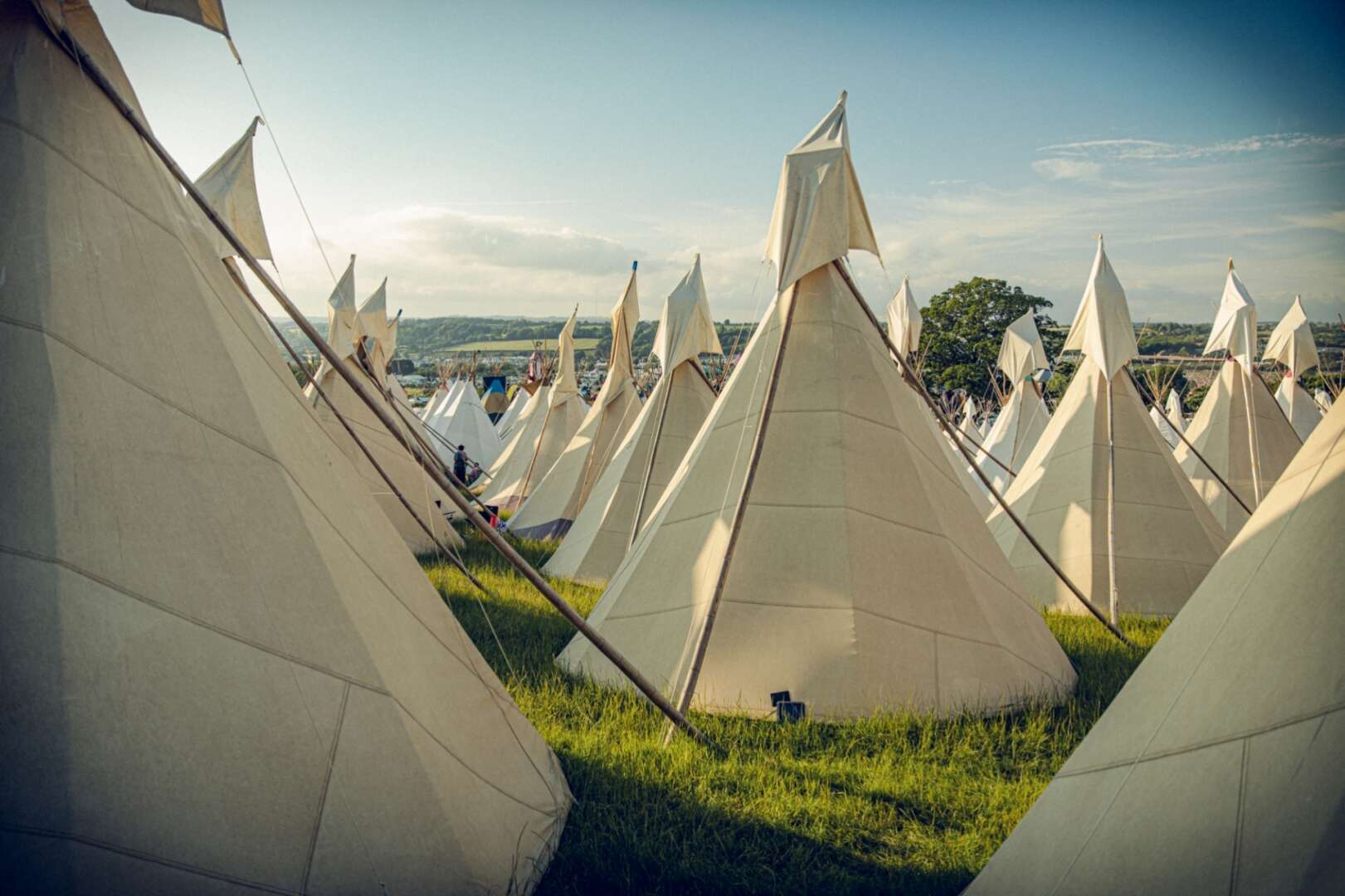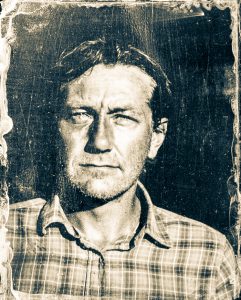 Rico started working with Hearthworks in 2007 as part of the Tipi Village set up team for Glastonbury Festival. It was the first year that Tipis-to-hire were introduced there, and nobody then had even heard of "Glamping." Having made and lived in Tipis for many years, he was a perfect fit for a company on a mission to introduce people to the life-changing joy of living simply in nature, under canvas. After a few years of team-leading the set-up of Tipis and Yurts at summer festivals, Rico relocated his then young family to the Glastonbury area, and over the years slowly took charge of Manufacturing at Hearthworks.
Under his watch, Manufacturing at Hearthworks has grown from making a handful of Tipis and Yurts each year, to it being the backbone of the business. It was Manufacturing that saw the pioneering Glamping business survive the unexpected shock of the Covid years, when the festival scene that had always been Hearthworks' bread and butter evaporated overnight.
His now adult children have left home but have also become part of Hearthworks' summer festival team themselves. Nowadays, Rico spends more of his time coordinating and teaching others in the Manufacturing team than he does quietly working on a project by himself, and he spends as much time on the computer as he does behind a sewing machine. Still, it's the satisfaction of carrying a project from design to completion that he gets excited about, and he remains involved at every step of the process, using vast reserves of experience to hone and standardise both the methods and materials used, and passing on his skills to a new generation.
Q) Tell us what you do:
I start by helping clients get a really clear idea of what they want and then guide them towards the best way to make that a reality. I design these often bespoke projects on a 3D drawing program, distilling canvas dreams into something practical so I can derive all the necessary measurements, dimensions, methods and instructions for our manufacturing teams.
I guide our canvas and woodwork teams, making sure that what each team does connects with the other's work, and that all materials needed are made available in time. I also keep in touch with customers about their structure's progress.
On completion, I make sure everything is up to standard, and either install the structure(s) myself with a team, or provide detailed instructions for others to follow.
Q) What brought you to work at Hearthworks?
In my twenties, I spent a lot of time staying in Tipis, and was taken by the magic of their design. When my partner and I were expecting our first child, she wished to give birth in a Tipi, so I decided to make one. Both of our children were born in a Tipi, and spent some of their early years living in canvas covered structures, in India, Spain and other places.
When Hearthworks dramatically expanded their festival hire operations in 2007, I was contacted and joined them. Since that time, we've made hundreds of Tipis and Yurts together.
Q) What's a typical day's work for you?
Hearthworks is based on a farm near the Glastonbury festival site. My activities take place in one of the barns converted for manufacturing purposes, and includes the sewing room and the wood workshop.
I work as part of a larger team, so on a typical day, I divide my time mostly between the sewing team and the woodwork team. I'm based in the Sewing Room, where my computer is and now have an assistant sewing manager, Robb, to help with that side of things. I spend a lot of time with the woodworking team, too, which is headed by my colleague Osh. I also work with the Hearthworks office team, by keeping in touch with clients and suppliers, answering enquiries and sending out quotes, and I work with the Warehouse team, because we make and maintain all of the Tipis and Yurts that Hearthworks hires out at festivals.
Q) What project are you working on now?
We are currently working on a home for a family of 4, consisting of 2 Yurts podded together. One Yurt is a living room with kitchen facilities, and the other contains sleeping quarters and a bathroom. They plan to live in this Yurt complex for some years whilst renovating their farmhouse. It has extra tall walls, exterior and interior doors, many windows and a number of unusual features so it is an interesting project.
Q) What are some of the challenges you face?
Lead times are a particular challenge, as often customers want their orders fulfilled quickly. Orders frequently come in all at once. We may have very quiet early winter months, for instance, and then as we approach spring we get multiple orders in, with a short deadline for completion!
We can produce relatively large numbers of Tipis and Yurts, but we don't really do mass production and tend to specialise in bespoke work so this can be quite difficult. At these times the 3D drawing software is particularly useful.
It can also be a big challenge meeting multiple deadlines, as sometimes we must take design risks when there are unusual or complex details in a project, and then fit them together once everything has been made, just before the structure is sent out – and usually whilst working on other projects all at the same time.
Q) Can you tell us an example?
Some time ago, we were making a Yurt that was so big that we didn't actually have the space in our yard to properly set it up in advance on a level surface, to make sure all the components fit together perfectly before sending it off to be installed.
We made everything ready according to the drawings, and then set it up on the customers' site to do the final fitting before finishing the cover. Luckily, it all turned out to work exactly as anticipated, with the stainless steel tension band fitting millimetre perfect! It was a real vindication of all the meticulous planning and calculating that is done in the early design phase.
We left the frame up on site with a temporary cover, went away and finished the canvas work at our yard and then came back to finish the installation the following week. Everything worked perfectly, but it was incredibly nerve wracking.
Q) What's it like to work at Hearthworks?
Hearthworks has a very informal work culture. It has taken shape from the festival scene, and everyone working here has a true appreciation and affinity for canvas covered structures and living in them. Here, we mostly work together as friends, side by side. The location is also a beautiful one in the countryside.
Q) So you're happy at Hearthworks?
I work with a team of truly beautiful people who I respect and value. With them, I can explore the limits of what can be done with wood and canvas. Hearthworks has a technical advantage in that we not only manufacture, but also hire out our structures, year in, year out, in vast numbers. We see how our structures behave when being set up, taken down and transported by a great variety of people, and in many different situations. It provides us with first hand feedback, and allows us to constantly improve our designs.
For example, we realised we needed a different type of structure within our hire range. A Tipi is basically a huge canvas chimney, with a central fire inside to bring it alive. Yet most festivals don't allow open fires due to health and safety regulations. We needed something that retained the magic of the Tipi shape but without a central fire, and which was easier to transport and set up. So, we developed our TriLodge. It's Tipi-like but without the chimney element, is suspended from an external Tipi pole tripod, and has a porch that allows the occupants to keep the door open even while it's raining.
Over the last decade we've also pioneered more permanent Yurt set ups. A Yurt is technically a temporary dwelling that doesn't need planning permission like a permanent structure, but it can also have features of a regular building, like insulation, heating, lockable doors, etcetera. Many Yurts are ordered these days for classrooms, therapy spaces and alternative accommodation for retreats and activity centres. We've taken traditional Yurt designs and adapted them by incorporating modern materials, such as stainless steel tension bands and laminated pressure rings. This retains their traditional feel whilst also being able to meet standard building regulations.
In Milton Keynes we created a complex of 7 podded Yurts: a living room with kitchen, two dormitories, two supervisor bedrooms, and two bathrooms for a charitable organisation catering for young people with disabilities, difficult histories, or other social disadvantages. They've been fully booked up from the moment it was completed, eight years ago. Then, the charity commissioned another Yurt complex of 8 podded Yurts (with an extra bathroom), a year later!
These experiences are most rewarding. Just knowing that because of what we do, so many youngsters have had the opportunity to experience Yurt living by spending time there with their families and loved ones, closer to nature, well, that's pretty special. It makes me happy to be able to contribute something so positive to my fellow human beings.
And I still feel very proud when I see hundreds of our Tipis and Yurts set up at some of the biggest event sites around, like Glastonbury festival!