Initially Hearthworks organised the manufacture and supply of North American (Sioux) style Tipis both in the UK and abroad. Learning about Tipis from friends, books and communities, Hearthworks continually improved the materials and design of its Tipis and pioneered the use of Tipi Rain-catchers in the UK.
Over the next couple of years Hearthworks began to provide Tipis for hire and started to manufacture central Asian style Yurts from local coppiced wood. At that time Yurts were not that well known in the UK, and Tara teamed up with Mick Sams, a local Yurt enthusiast who was already making traditional Yurt frames.
Hearthworks Yurts began to be manufactured from steam-bent English Ash and kept the Turkic style with curved roof poles and a steam-bent roof-wheel. After travelling to meet Yurt makers in central Asia, Tara started to import traditional felt Yurt covers, felt decorations and willow Yurt frames from Kyrgyzstan.
Soon Hearthworks Tipis and Yurts were being used the world over – from the Australian bush to the tropical beaches of Costa Rica, from high in the Himalayas to the deserts of Sinai. Our experience of these different environments has given us direct insights into how these structures function best, and helped to develop best practice for our manufacturing standards.
Hearthworks as a company is very much family and community based, and both Mick's wife, Nichole, and Tara's brother, Kai, joined the team as Office Manager and seasonal Production Manager respectively. There is a wonderful group of local friends and artisans involved in Hearthworks, from handcrafting the wood-burning Stoves and decking floors, to unloading the lorries and sewing the canvas. As interest in Tipis and Yurts in the UK has grown, so has the business, and the summer season is now a roller coaster of event after event.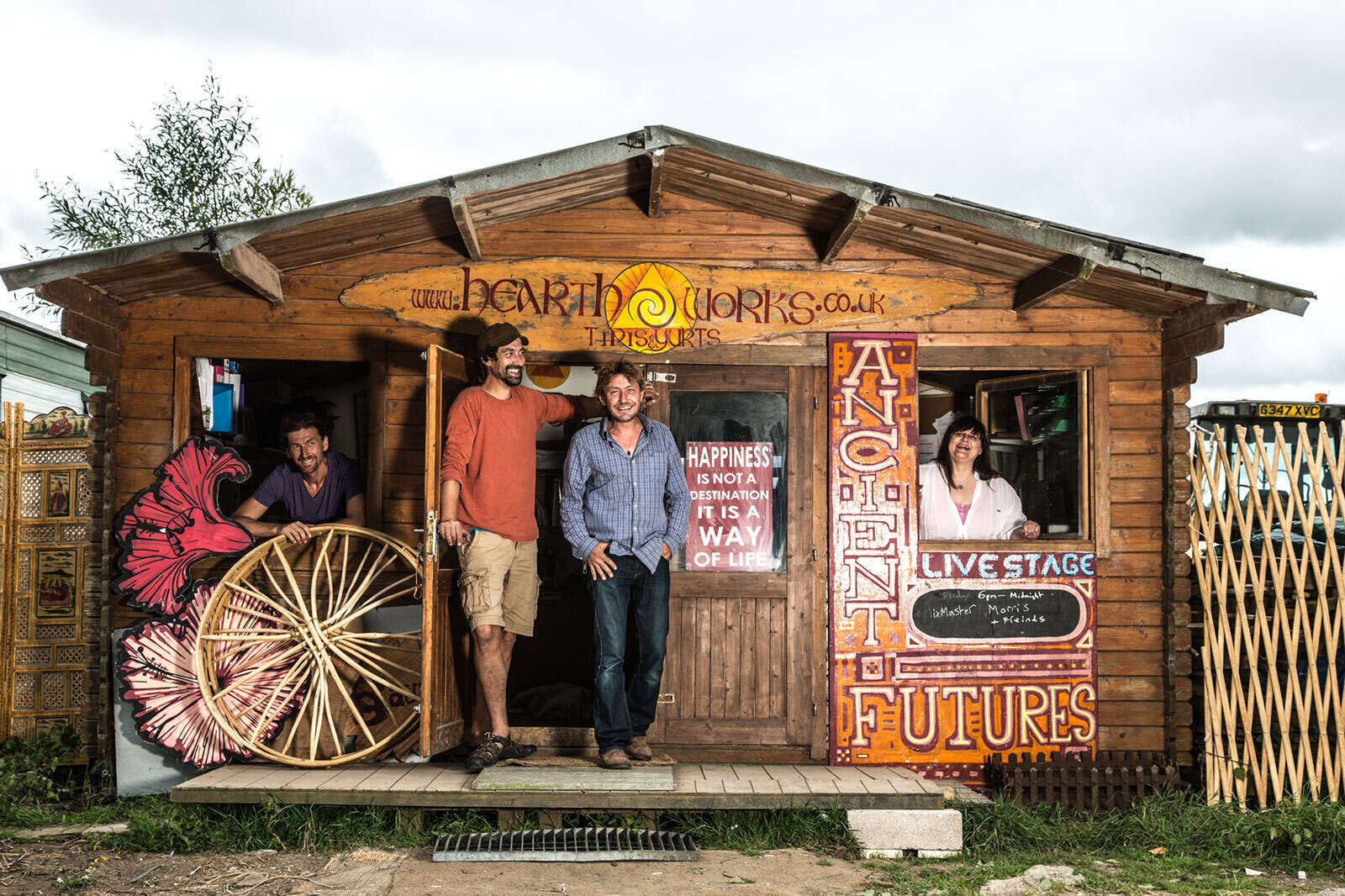 From the beginning we have offered accommodation in our Tipis and Yurts for Private Parties, Corporate Events and Weddings. This has expanded into the provision of boutique Tipi and Yurt accommodation to the public, as well as the provision of VIP accommodation, at a large number of festivals over the summer season. Hearthworks festivals include WOMAD, Electric Picnic, Port Eliot, Sunrise, Shambala, The Secret Garden Party and Bestival as well as many others, notably Glastonbury Festival, where Hearthworks Managing Director is also the Tipi Field co-ordinator.
Hearthworks has also undertaken a number of impressive design and build installations in recent years, pushing the boundaries of Tipi and Yurt design. This have included bespoke canvas design, large structures (over 10 m diameter), custom awnings, multi-celled structures and pioneering flooring design.
Over the last 12 years Hearthworks has become the leading provider of the finest Tipis and Yurts in the UK. We offer a friendly and professional hire service as well as making bespoke Tipis and Yurts to order. Our reputation, solid track record and consistently improving products speak for themselves.